| | | |
| --- | --- | --- |
|   | | This infobox is incomplete, please help the wiki by filling it in. |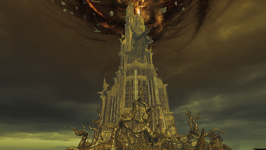 The Battle Tower on Sentinel Island was once ruled by the great magician, Maxos before he disappeared. A few hundred years after Maxos disappeared, the evil necromancer, Laiken broke the magical wards on it and took it over. It was used for his evil experiments into the undead until the Dragon Knight slew every evil creature inside and took it over. It is now used to further his/her quests.
IMPORTANT! Any quests that you have in Broken Valley will be failed when you kill Laiken and take control of the Battle Tower.
Platforms
Edit
The characters within these areas depend on the player's choices during The Prophecy quest.
Other Areas within the Battle Tower
Edit
Secret: Chest Puzzle
Edit
Pickup the Key hidden on one of the tables in the Alchemy Garden.
Open the chest in the Necromancy Ring that contains gold and a Key.
Open up a chest in the Skill Training Arena that contains gold and a Key.
Open up a chest in the Workshop that contains gold and a Key.
Finally open up a chest in your Personal Quarters that contains random loot.
Ad blocker interference detected!
Wikia is a free-to-use site that makes money from advertising. We have a modified experience for viewers using ad blockers

Wikia is not accessible if you've made further modifications. Remove the custom ad blocker rule(s) and the page will load as expected.