Cyseal is the first city you find in the gameplay. Here you can hire four companions to fight by your side. You can find Madora in the King Crab Tavern, Jahan at the library in 2nd floor of Mayor Cecil's house, Bairdotr in a cage near Legionnaire barracks and Wolgraff at the end of little cave under Cyseal cemetery.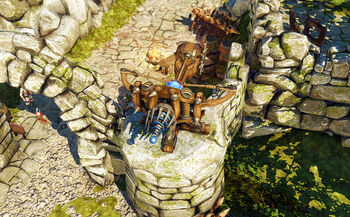 Arhu's magical ballista protects the city from Undeads and Orcs. Legion commander Aureus wants to deracinate the Undeads which have been increased tremendously since last 3 years, and have narrowed the source of the Undeads to 3 places.
You can find the quests available in Cyseal at this link.
Ad blocker interference detected!
Wikia is a free-to-use site that makes money from advertising. We have a modified experience for viewers using ad blockers

Wikia is not accessible if you've made further modifications. Remove the custom ad blocker rule(s) and the page will load as expected.