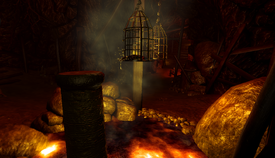 High Hall Mines is a location in the Orobas Fjords. The two entrances are located in northern High Hall. The mine is occupied by trolls, baby trolls, a runekeeper troll, and a mage named Mundus. He is the target of The Runes of Wrath quest. In order to reach him, the Troll Runekeeper in the eastern part of the cave (see map below) must be defeated to obtain magical runes. The runes must be taken southwest, past the mine guard corpse and down a curving incline, then used on the portal shrine to lift the nearby the magical barrier. Continue down the passage and use the elevator to enter his chambers.
Ad blocker interference detected!
Wikia is a free-to-use site that makes money from advertising. We have a modified experience for viewers using ad blockers

Wikia is not accessible if you've made further modifications. Remove the custom ad blocker rule(s) and the page will load as expected.