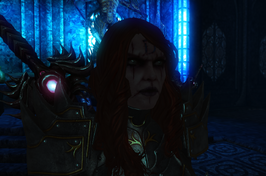 Kali is the sister of Hermosa, one of the two skill trainers you can choose from on Sentinel Island. She is a level 30 Black Ring General who is in charge of her own flying fortress that has taken the place of Rivertown Gorge south of the Orobas Fjords. A ruthless leader, she killed her own father to obtain Myrthos, The Sword of Power. A Folded Letter from Damian congratulates her for acquiring it.
Mindread her at Kali's Flying Fortress Headquarters to learn that Ulthring's Helmet is in her possession, so you can receive it upon her death.
Ad blocker interference detected!
Wikia is a free-to-use site that makes money from advertising. We have a modified experience for viewers using ad blockers

Wikia is not accessible if you've made further modifications. Remove the custom ad blocker rule(s) and the page will load as expected.