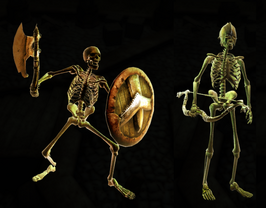 Skeletons are the most common kind of undead. They'll be found in many dungeons as well as on the surface.
There are several types, including:
Warriors
Archers
Summoners
Wizards
Blunt weapons are much more effective against skeletons than sharp weapons (i.e. Weapons with resistance type 'Crushing', as opposed to 'Slashing' or 'Piercing').
Ad blocker interference detected!
Wikia is a free-to-use site that makes money from advertising. We have a modified experience for viewers using ad blockers

Wikia is not accessible if you've made further modifications. Remove the custom ad blocker rule(s) and the page will load as expected.