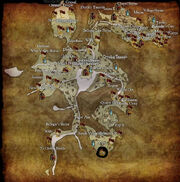 Viper is located just south east of the South Valley Shrine. You can mindread him for 400 exp to allow him to drop quite a few gems. You must take his sword to Rodney in the Rivertown Barracks to complete Viper's part of the A Hunting We Shall Go quest.
The default reward is 1500 exp, 320 gold, and once choice from random uncommon items.
Ad blocker interference detected!
Wikia is a free-to-use site that makes money from advertising. We have a modified experience for viewers using ad blockers

Wikia is not accessible if you've made further modifications. Remove the custom ad blocker rule(s) and the page will load as expected.